Bar Codes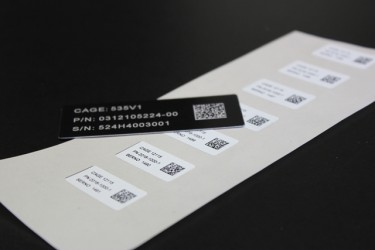 Barcodes are now being utilized, nearly universally, for product identification. The growing importance of product management/tracking, the demand for efficiency and authenticity, and the affordability and user-friendliness of associated readers are making bar codes an increasingly popular option for information marking.
Industrial Nameplate can print barcodes in a wide variety of formats and sizes on nearly any material. Years of experience working with different materials and imaging technology combinations allows us to recommend the appropriate marking method and ensure each product will perform beyond expectations in its respective product environment.
Barcodes can be formatted in many ways, but our most popular are:
2D Data Matrix
UID (Unique Identification Number)
Barcode 39
Barcode 2 of 8
QR Code (2D)
Universal Product Code (UPC)
Depending on the individual application, we can print or mark barcodes on:
Polyester
Mylar
Vinyl
Plastics
Destructible Vinyl
Aluminum Foil
Aluminum Plates
Stainless Steel Plates
Litho Paper
Lexan
Click for a complete list of materials we stock
Our most common imaging technologies for bar codes include:
Laser Engraving
Laser Marking
High-Resolution Digital Printing
Thermal Printing
Click for a complete list of imaging technologies
Some of the most common barcode parameters include:
Part Number or Model Number
Serial Number
Manufacturer and Contact Info
Manufactured Date or Date Code
Expiration Date
To discuss a bar code identification solution for your product, contact us today at 800-878-6263 and let us put our experience to work for you. We are so confident we can find the right solution that we guarantee everything we produce!