Membrane Switches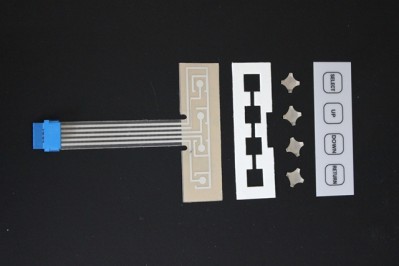 Thanks to new technologies, membrane switches have become increasingly complex. From material to content to sizing, we can now bring your design into the 21st century.
Membrane switches require the technology and expertise that Industrial Nameplate has to offer. Whether you are seeking a membrane switch for appliances, electronics, food equipment, medical devices or military applications, we can design and manufacture a product that performs to specifications in any environment.
Because of our specialized corporate processes, we are able to offer affordable pricing for any size order, from small runs to hundreds of thousands.
While we can print on virtually any material, Lexan (polycarbonate) and Mylar (polyester) are the most common.
Click here to learn more about other materials we maintain in inventory.
Depending on the specific application, we employ the following imaging technologies:
We typically print membrane switches by silkscreen or UV-cured digital printing.
Other layers of switches may be die cut or laser cut with tolerances of .01" or better
From kitchen equipment to instrumentation, cockpits to defibrillators, we can produce the custom membrane switches you need! Contact us today at 800-878-6263 to speak with one of our sales engineers and let us help you find the ideal combination of material and imaging technologies for your custom membrane switches.