Nameplates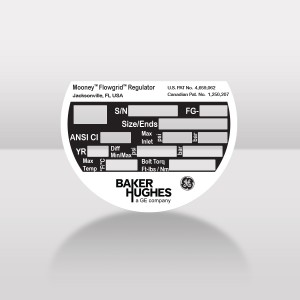 Premium nameplates are one of Industrial Nameplate's key areas of excellence. We use only the latest and most advanced techniques and technologies to produce the highest-quality products. That is why we can guarantee that if any part does not perform to the specification of an order, we will recreate the part(s) and ship to the customer free of charge.
Years of experience enables us to identify the ideal match of materials and imaging technique for each intended environment. We can also discuss alternatives and the costs involved so we can help our customers understand the cost versus benefit of the decisions they need to make.
While we are capable of printing on a wide variety of materials, most of our nameplates utilize:
Aluminum, Metalphoto
Aluminum Plates
Anodized Aluminum Plates and Foils
Stainless Steel
Lexan (Polycarbonate)
Mylar (Polyester)
Vinyl, and
Acrylics
We maintain an inventory of these materials in many variations of size, thickness, finish and other inherent material properties including fire resistance, malleability and transparency.
Our most common nameplate imaging technologies are:
Silk-screening
Digital Printing
Laser Marking, and
Engraving (Laser, Rotary or Diamond Drag)
Another key benefit we offer is our pre-approved status with UL, ANSI, CSA, CE, FCC and other government sanctioning agencies. This allows us to legally apply registration and trademark encoding to identify and protect our clients' products and brands. We can also streamline the process to receive approval to reproduce specific business trademarks.
Whether you need just one plate or a few thousand, we are prepared to design and manufacture reliable, lasting nameplates that exceed your expectations. Contact us today at 800-878-6263 to schedule a free consultation and request samples of our quality nameplates.