Graphic Overlays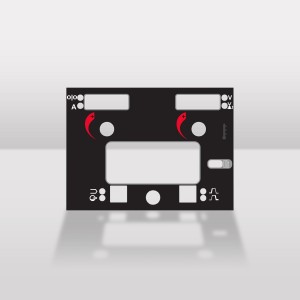 Graphic overlays are ideal for identifying a wide variety of products and parts. The performance of graphic overlays can have a significant impact on the long-term success of the products that they serve. Industrial Nameplate uses reliable materials and printing methods that are proven to last and provide a vibrant image for your product.
We are constantly learning while testing materials and imaging technology combinations to ensure each product will perform beyond expectations in its respective product environment. With more than 45 years of experience, we have millions of overlays performing "in the field" as proof of our dedication to excellence.
Dependent on the product use, some of our most common materials used for graphic overlays include:
Lexan (Polycarbonate)
Mylar (Polyester), and
Acrylic
We also stock a large variety of adhesives for permanent application onto smooth or textured surfaces to be used in almost any kind of environmental condition, as long as the surface is clean prior to application. Some adhesives are rated to perform within extremely low or high temperatures, or within chemical and aqueous environments. For any adhesive, the best performance is usually achieved when applied on a clean surface between 50 and 100 degrees Fahrenheit. With proper application, the adhesive will usually outperform expectations for the intended environment.
Click here to view a list of the more popular adhesives we carry in stock.
Based on our experience, our two most common imaging technologies for graphic overlays include:
Screen Printing
High Resolution UV Cured Digital Printing
Another key benefit we offer is our pre-approved status with UL, ANSI, CSA, CE, FCC and other government sanctioning agencies. This allows us to legally apply registration and trademark encoding to identify and protect our clients' products and brands. We can also streamline the process to receive approval to reproduce specific business trademarks.
If you are in need of a graphic overlay that will perform without fail for years to come, contact us today at 800-878-6263 and let us put our experience to work for you. We are so confident we can find the right solution that we warranty everything we produce!