Labels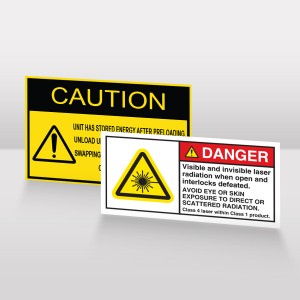 Printed labels can be designed and manufactured for nearly any industry. Automotive, electronics, manufacturing, military and construction labels are produced in our facility each day. We inventory an incredible diversity of materials to ensure cost-effective, custom products produced quickly. We have more than 40 years of experience matching the ideal selection of materials for each application, and we stand confidently behind each of our products.
Base Materials
The most common label base materials include:
Polyester (Mylar)
Vinyl
Polycarbonate (Lexan)
Tamper Evident Label Material
Destructible Vinyl
Polyethylene (Sheeted Plastic)
Anodized Aluminum Foil
Aluminum Plates are also very popular, and may be applied with adhesive, but we categorize them as Nameplates.
Quality
As new technology enters the market, we carefully review each manufacturer and acquire printing equipment, inks and materials to provide the best performance and meet the needs of our customers at the best possible price. Our pricing is competitive to the extent that many label retailers rely on us to supply them with product. Our ink and equipment combinations provide some of the best quality available anywhere.
Printing
After selecting the proper material, we employ one of our proven imaging technologies to produce reliable, long-lasting label performance with vibrant colors. Three of our best performing imaging technologies are:
Digital Print with UV-Cured Ink – Great for short runs, full-color gradients and variable information with excellent performance
Screen Printed – Provides the best performance on common and unique materials
Flexographic – Lower costs at higher quantity
Variable Info
Our printing techniques allow for custom Serial Numbers and Barcodes, which can be integrated with variable text information or other aspects. One of our most common requests is for Model Number and Serial Number information in 2D barcodes, combined with human readable text.
Compliance
Many of our customers are pleased to hear that we are UL Certified and are authorized to print most registration symbols (such as CE, FCC, ANSI/EIC, CSA, NEMA or AGA). We can also comply with most any Mil-Spec, although there are a few rare material specifications where compliance can be costly. For your reading pleasure (or insomnia cure), you are welcome to review some of the specifications that we commonly comply with by following this link to our Quality Control page.
Label Finishing
After printing, labels may be finished in a variety ways. Rectangular, individual labels with pressure sensitive adhesive are some of the most common and inexpensive labels available. We can also offer round corners and round shapes, along with unique and intricate shapes, by steel rule die cutting, digital pen cutting or laser cutting. To reduce cost, we maintain an inventory of many thousands of standard die shapes, as well as each of our customer requested unique die shapes. Any one of our cutting formats can kiss-cut the label material to the shape requested, while retaining the paper backing for easy label handling.
Label Protection
Some of our labels receive a clear protective layer laminated over the surface of the labels. This can further protect the printed inks from exposure to sunlight, water and most chemicals. We inventory at least six over-laminates to comply with most any specification while also graduating the cost per specification requested.
Adhesives
We also inventory a wide variety of adhesives, which can perform in extremely cold or hot environments, as well as other adhesives that can withstand prolonged direct exposure from most chemicals or long-term life in aqueous environments. Some adhesives are designed to be repositionable, and some are designed with very high strength to grip in more extreme applications. The most common method of application is called pressure sensitive adhesive where the label application surface is cleaned, the paper label backing is removed and the label is applied with pressure. All this can be done in just a few seconds. Depending on the adhesive, 90% tactile strength is usually achieved within minutes, while some varieties are achieved within hours. Some of our adhesives are pre-applied to certain common materials, and most of our adhesives are stored in roll format, ready to be applied to the material of choice. We track the age of the materials, so when needed, we can certify the expected tactile strength/life expectancy of the adhesive.
Contact Us
While labels may be a common printing product, we go the extra mile while producing them. At Industrial Nameplates, each finished label is custom made to perform to the specifications outlined in the design process. Contact us today at 800-878-6263 to learn more about our label options and processes.