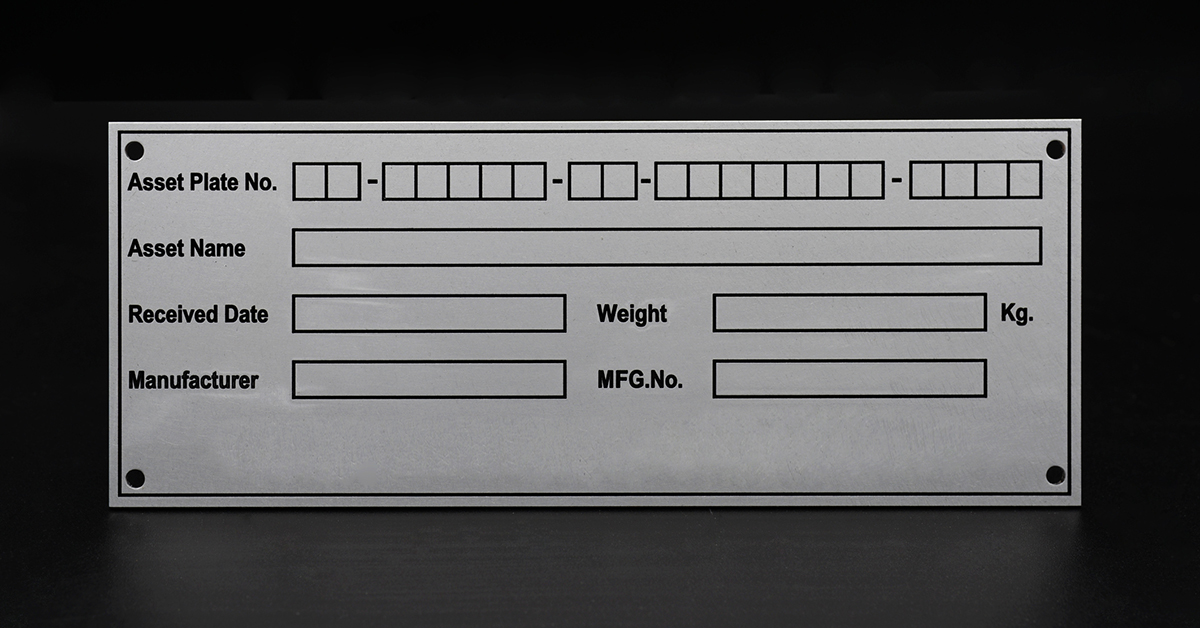 Metal nameplates play a critical role in several industries – for instance, aircraft, trucks, and boats require exceptionally durable nameplates for identification and metal nameplates perform this role well. Similarly, outdoor machinery and those used in adverse environments need super-strong metal nameplates. Special materials are often used, especially those that can withstand extreme conditions such as UV light, corrosive industrial solvents, heat and humidity, abrasive cleaners, and even saltwater immersion.
Industrial Nameplate boasts a wide range of high-quality base materials designed for use in nearly all industries. These materials range from Vinyl, polyester, polycarbonate, to aluminum foil, plates and stainless plates. These materials are used to fabricate ordinary identification tags to Military grade Unique Identification (UID) Barcoded labels.
The standard options for metal nameplates include:
Aluminum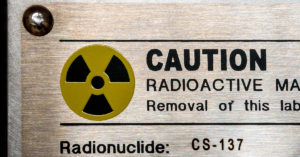 Aluminum is a highly versatile material that is tarnish and rust-resistant and can endure some of the harshest environments. We stock many forms of aluminum – aluminum foil, hard and soft, and aluminum plates with varying alloy and tempers; series 1100, 1105, 5005, and 5052. Aluminum can also be anodized or clear coated for stronger resistence to chemical environments. We can print on the surface of aluminum, and print with a special process to embed printed color dye inside the pores of aluminum, then seal the color for long lasting use. When color is sealed into the aluminum, the surface can be scratched and the print remains legible. When surface inks are scratched, the copy is removed where the abrasion occurs. Most people don't realize that aluminum is porous. We have perfected printing in aluminum foil .003″ thick up to plated anodized aluminum .080″ thick. .003″ and .005″ are the most common aluminum foil label thicknesses. Plates are most commonly made at .020″ to .032″ thick. Aluminum nameplates, finds its applications in harsh and extreme environments. These metal nameplates can survive extreme temperatures, abrasion, corrosion, and chemical attack. One of our customers uses our dye and sealed anodized aluminum outside the opening of their autoclave units with periodic exposure to the internal chemical residue.
Stainless steel
Unlike conventional steel, stainless steel doesn't corrode and offers even more longevity and durability than aluminum. Stainless can be offered in a thin foil sheet, but is most commonly utilized as a plate with epoxy surface printing, permenant laser marking, or etch and fill for one of the most durable options available. These metal nameplates retain their information through some of the toughest exposure / environments.
Plated alloys
Plated alloys are more durable and highly ductile. They are also more corrosion resistant, making them best for specialized applications where other metals and finishes would corrode or wear off easily.
The above metal nameplates are only a few of the standard material options used in various industrial settings. Depending on your unique specification and range of applications, we offer an exceptional library of custom materials, sizes, shapes, and colors to suit your needs.
Brass
Brass plates and tags are available in a wide range of shapes and sizes and can be used for different durable applications. Brass is a durable metal that is frequently chosen for the asthetic. We understand the look of a finished plate is important.
Features of Industrial Nameplate's Custom Metal Nameplates
All our metal nameplates are skillfully designed and fabricated to meet and even exceed your expectations. You will specify the mounting style you want during the design phase – whether screws, rivets, adhesive or magnetic. All these options, from our engineered adhesives to precise screw holes placement, ensure robust mechanical attachment. We are a certified 3M converter and carry a wide range of 3M products in stock.
We offer labels and tags for a wide range of industries, from government and military equipment to the most demanding industrial applications. We comply with most U.S military specifications (MIL-SPEC) and are also certified to print metal nameplates with specific symbols such as UL, CE, FCC, NEMA, etc.
Additionally, Industrial Nameplate is pursuing department of defense CMMC compliance to ensure our communications and records are secure for all of our customer needs. CMMC or the Cyber Security Maturity Model Certified badges apply to Department of Defense (DOD) contractors and sub-contractors. CMMC compliance starts at level 1 to level 5 and covers advancing levels of cybersecurity practices and processes. We comply with specifications to meet NIST 800 – 171 compliance and level 3 CMMC compliance. Other quality certifications we support include:
UL Authorization
3M Master Converter
Whether you need metal nameplates for day-to-day industrial tagging and labeling or complex industry-specific applications, we have got you covered. Our product identification tags and advanced Label solutions are fully customized to guarantee the best quality and on-time delivery with CMMC security.
Conclusion
Customer satisfaction is our top priority, and we go the extra mile to meet our clients' expectations. We take pride in our 50 plus years of dedicated services to our esteemed clients who have grown with us and continue to enjoy our reliable and customized products.
Get in touch with us today, and we would love to work with you in designing the best labels to industry-standards using the most advanced technologies.